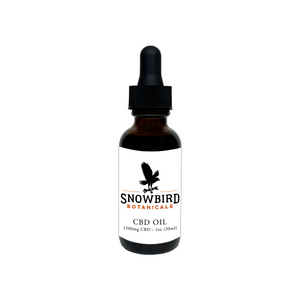 1500mg CBD Oil - Whole Plant Extract - 1oz (30ml)
(30-60 Servings per container)

Cannabinoid Content Per ml:
50mg CBD
2mg CBG
2mg CBC

Ingredients: Vermont Hemp Flower, Organic Coconut Oil (MCT)

Dominant Terpenes: Caryophyllene, Humulene, a-Bisobolol 
Taste: Floral, Earthy, with a hint of coconut

Storage: The best way to store your CBD oil, is in an upright position, in a place with a stable temperature, away from extreme light, heat, or moisture. A dry pantry is a perfect place for storing your CBD oil!
Lab Results: Click Here
Disclaimer: This product contains legal, trace amounts of THC. Use of this product could cause a failed drug test. These statements have not been evaluated by the Food & Drug Administration. This product is not intended to diagnose, treat, cure or prevent any disease.