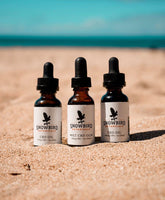 CBD wellness starts here
We know trying to find a CBD oil for your needs is a journey. We hope to help make it an easy decision for you.
We believe nurturing mother nature will get you the happiest, healthiest cannabis plants. We don't use any synthetics, and are passionate about the sustainable practices we implement.
We compost, collect & feed with rain water, use worm castings, chicken + fish remnants, and use natural organisms for soil remediation, alongside natural nutrients throughout the season (calcium, magnesium, nitrogen, phosphorus, CO² etc).
Our packaging is compostable, recyclable, and contains the minimum amount of plastic needed, while our inks used are non toxic & water based.
Click our chat on the bottom right for FAQs that can help guide you in the right direction!
CBD oils
Fall in love with our salve
Packed with the potency of 4,000mg CBD and 2,000mg CBG, this full spectrum 2:1 salve can soothe your pain, while providing nourishing moisture.
This salve uses a proprietary blend of our full spectrum CBD and CBG flower along with coconut oil, beeswax and a hint of essential eucalyptus oil -making it surprisingly refreshing!
It's dynamic enough to be used on your hands, face, feet, body, lips, and hair. A must have for all seasons.
2:1 CBD+CBG Salve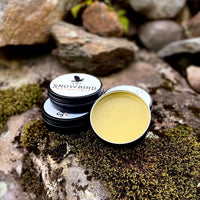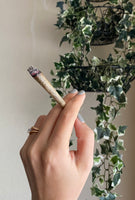 Pre-roll paradise awaits
Handcrafted with the utmost care, our king sized CBG pre-rolls are filled with 1 gram of pure flower, never any trim or biomass (aerial parts). These pre-rolls are a luxury for your convenience -ready to go whenever you are.
We nurture our plants delicately, especially once they're in flower, and hand trim them in order to maintain a frosty layer of trichomes. We slow dry and cure our flower, preserving both terpenes and flavonoids, enhancing the overall flavor profile & quality.
Our 5 pack is sustainably packaged in a child resistant tin, that can be repurposed or recycled after use.
CBG Pre-rolls
Testimonials
"I suffered from major sciatica nerve pain in my right hip and down my right leg in 2015.  I couldn't walk for a week and I took over 60 pain pills in 10 days so I could attend a family wedding.  I then made an appointment with a Chiropractor/Acupuncturist which helped to relieve the pain and quit taking the meds.  He recommended taking 1 ml of CBD Oil twice a day, morning and night. This has helped me quite a lot. I no longer need to see him on regular basis.  I continue taking my CBD Oil daily, two times a day and a little extra when my nerves flair up occasionally."

Andy M.
"I tried many other CBD oils looking to find something for both my arthritis and chronic sciatic nerve pain from a tennis accident.


I could immediately feel the difference with snowbird botanicals CBD oil. From the first day of use, my arthritis pain is entirely managed with this CBD oil. I no longer have the swelling in my joints, or pins and needles in my fingers. I'm no longer dropping things, and I don't think twice about the pain anymore.

One morning, I jumped out of bed hearing my dog scratch the door to go out. That's when I realized I didn't slowly get out of bed carefully the way I had for over a decade. My constant sciatic nerve pain was gone. I can't recommend this enough to everyone I know. It will change your life if you have any chronic pain."

Nelly S.
 "Snowbird Botanicals whole plant CBD oils have helped me improve my symptoms of moderate to severe insomnia greatly!

As somebody who has tried many different oils for my insomnia I can honestly say that the terpenes and other cannabinoids in this whole plant oil set itself apart from the rest.
You can feel the difference almost immediately with its soothing and calming effects.

One full dropper of the 1500mg oil before bed and i find myself falling asleep easier, waking up more rested and ready to start my day."

David S.